Valentine's Day is almost here and it's time to break out the rom-coms, chick flicks, and just flat out feel good movies to watch with your sweetie. And what's Valentine's Day without a little smooching? I'm sure you've seen many, if not all of these kisses happen, whether you watched the movie or not. These are some of Hollywood's greatest romantic moments.
1. Gone with the Wind: Every girl wants a romantic like Rhett Butler in her life. "You should be kissed, and often. And by someone who knows how," he tells Scarlett O'Hara, and later shows her he is the perfect man for the job. I think we all need to be kissed often, Mr. Butler.
2. Lady and the Tramp: Who ever thought a classy uptown girl would fall in love with a dirty little stray? Well, it happens in this 1955 Disney classic. The two share a sweet doggy kiss over a shared plate of spaghetti.
3. Breakfast at Tiffany's: Despite the fact that this romantic movie is based on a less-than-lovey novella, the kiss between Holly and Paul in the last scene is still heart warming.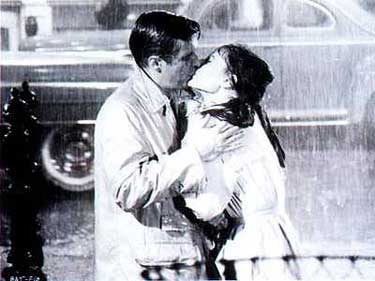 4. When Harry Met Sally: This movie sparked quite a bit of controversy-- can men and women really be "just friends?" Harry and Sally can't, that's for sure. And as Harry told Sally,
"I came here tonight because when you realize you want to spend the rest of your life with someone, you want the rest of your life to start as soon as possible." It's true.
5. Pretty Woman: Vivian can't get attached to her clients, so she makes it quite clear that she doesn't "kiss on the mouth." Things soon begin to change when she becomes attached to her client Edward. It becomes obvious when the two share on full-on-the-lips kiss. I'm sure you can figure out the ending.
6.
Ghost
: The finally scene in this movie is utterly heart
wrenching
. Molly kisses Sam's spirit for the last time before he can finally make the transition to heaven. Brings me to tears every time, I swear
.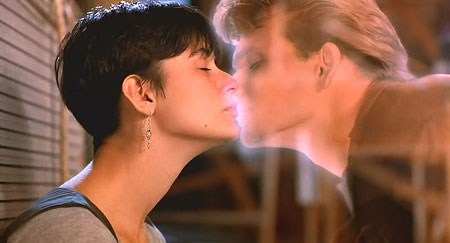 7. Titanic: Yet another tear jerker. Not the movie for anyone is a bad mood. Although, this kiss will make you wish you could trade places with Rose (if you're a girl, that is) even if the boat does sink and kill a ton of people.
8.
Spiderman
: What girl hasn't fantasized about kissing a spandex-clad superhero upside-down in the pouring rain? ...Well, this steamy kiss will make you think about it.
9.
Slumdog
Millionaire: Love really does come in unexpected places. Not only do Jamal and Latika share a sweet, optimistic kiss, but Dev Patel (Jamal) and Frieda Pinto (Latika) are real life off-screen sweethearts. Aww.
10. Twilight: Whether you are Team Edward or Team Jacob, this kiss will make you desperate for more. Bella can't tear herself away from Edward and you won't be able to tear your eyes away from the screen.
So get out there, grab your hun and, watch one or all of these firework inducing kisses. You may even get a little peck yourself!
*Courtesy of CNN.com